Project Profile
Project Title: "Traffic safety weeks – analysing own behaviour in traffic, boosting road safety traffic safety "
Subject Cluster: Mobility
Comprises the following projects and measures:
"Schulweg-Safari", short film "Parent Taxi", "Safely to school", "Lass Dich sehen", Fit and safely to school", Education Office's guidebook for parents, Spring actions and service network for cyclists.
Project Participants: Traffic, Health and Municipal Education Departments
Contact: Rainer Michaelis
Traffic Department Frankfurt am Main
Above all, sustainable urban mobility means that every road user can move safely in the city. Preventive communication facilitates road safety by fostering prudent behaviour and mutual consideration, but also requires that traffic violations be followed up.
Besides financial investments in construction measures, Frankfurt is also investing in road safety, such as developing the bicycle network, safe crossings for pedestrians (see promotion of short-range mobility on page 72) and extending the number of stationary red light and speed monitoring systems at accident blackspots There is also a wide range of communication campaigns which focus on the safety of schoolchildren and cyclists.
Safely to school, alert in class
Under the motto "Selber laufen macht fit and schlau!", the "Schulweg Safari" action encourages children and parents (playfully) to go to the day care centre or school by bicycle or on foot, and not by car. All too often children are driven to school in "Parent Taxis" which leads to random parking and near-miss incidents in front of the schools, whereby the children are often not properly secured in the car. Besides, children who walk or cycle to school are much more alert and more focused in class. They also learn every day on their way to school how to conduct themselves more safely in traffic. The environment also benefits when fewer cars are on the roads.
The "Schulweg Safari" has been updated regularly since 2008 and from 2012 there has been a cooperation with our twin city, Leipzig. Flyers, postcards and an action website give tips on getting to school safely. There are also checks and conversations with parents in front of the primary schools.
Short film "Beware of Parent Taxis"
Helicopters circle above a school in Frankfurt and prepare for landing: a hard-hitting short film in the "Schulweg Safari", has been drawing attention to the problem of "Parent Taxis" since 2014. The film was published on Youtube, Facebook and the campaign website www.schulweg-safari.de in 2014 and is shown every year in cinemas in Frankfurt immediately after the summer holidays.
Safely to the day care centre and kindergarten
In the "Safely to School "action, even pre-school age children learn with kangaroo Lenni how to act safely in traffic. The action is carried out by the road safety instructors from the Road Traffic Department and supported by the Deutsche Verkehrswacht and Bridgestone.
More safety by being conspicuous
The "Lass Dich Sehen" (Be seen, be safe) campaign has been teaching road users since 2008 how being more visible in twilight or darkness leads to safety on the streets. Brightly-coloured, reflective clothes, functioning bicycle lights, additional reflectors and the "Lass Dich Sehen" snapbands also help – a website, posters and a flyer for parents give tips for pedestrians, cyclists and, in particular, for children. A video with a DJ from Frankfurt and especially composed music shows that reflecting details on clothing not only make road users more visible but can look cool and chic.
Fit and safely to school
A healthy breakfast and safety on the way to school: for new first-year pupils and their parents these are important topics which the Health and Road Traffic Departments are teaching in a joint project "Fit and safely to school". During the pre-school medical checks the Health Department distributes the reflecting signal band "Fit and safely to school" to all parents and their children, so the children can be seen well on the way to school. The signal band is in a carrier card, which gives concise, practical information on "healthy snacks" and "safely to school". Parents also receive the Schulweg Safari flyer with tips for the way to school. The Road Traffic Department has been involved in the Education Office's guidebook for parents since February 2015. This brochure, which is distributed to all parents registering their child at a primary school, also gives tips on "getting to school safely".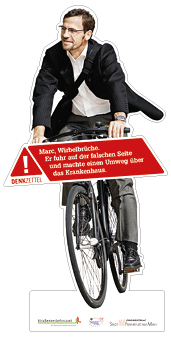 Safer cycling
A wide range of campaigns organised by the City of Frankfurt are directed at cyclists - for example springtime campaigns at the start of the cycling season focus on key issues, such as the improper use of cycle paths against the traffic, red light offences, cycling on the pavement or parking offenders on cycle paths. The action is a combination of checks by the local police and friendly persuasion on the part of the police. The cardboard stand-up "Marc" was developed forth is and points out the consequences of traffic violations at accident blackspots, or the map which "Nina" uses to exhort car drivers not to park on cycle paths and pavements.
One vital element in accident-free cycling is a roadworthy bicycle in perfect working order. In the Spring of 2001 the Frankfurt Cycling Service Network was launched. Service partners now provide bike pumps, patches and tools free of charge at almost 100 locations across the city, thus helping the cyclists to help themselves. The service points and the six public pumping points can be found on Frankfurt's Cycling Office Internet map.

Safely to school
Teaching children how to conduct themselves safely in traffic; being more visible at twilight and in darkness; discouraging parents' pick-up and drop-off service (Parent Taxis) with all its negative impacts.

Smart and fit
Children, who go to school or day care centre on foot or by bicycle are more independent, more alert; a healthy breakfast and healthy snacks help.

Preventing accidents
Raising cyclists' awareness of accident blackspots and dangerous behaviour; preventing violations; combining checks and friendly persuasion; service network for cyclists.