Project Profile
Project Title: "Masterplan Industrie for Frankfurt am Main"
Subject Cluster: Economy and Consumption
Project Objectives: Restructuring the commercial areas in Fechenheim Nord and Seckbach sustainably in a cooperative process with local businesses. This is a model project of location development according to ecological, economic and social criteria.
Location: GPS coordinates: 50.131923, 8.740831
Project Start: March 2013
Project Completion: In accordance with City Council Resolution §6625 of 17.12.2015 implementation of the recommendations of the feasibility study between 2016 and 2021.
Co-ordination: Frankfurt Economic Development GmbH
Project Participants: Project group with representatives from a wide range of institutions and fields: Roadbuilding and Development Department, Building Control Authority, Energy Department, Frankfurter Entsorgungs und Service GmbH, Rhein-Main Chamber of Trade, Frankfurt Chamber of Commerce and Industry, Land and Property Department, Regional AssociationFrankfurtRheinMain, Stadtentwässerung Frankfurt, City Planning Department, Environment Office, ­ Frankfurt Economic Development GmbH, Mainova AG, Mobility and Traffic Planning Department, Regional Authority
The "Sustainable Commercial Area" project, which includes a range of measures from improving the infrastructure to enhancing energy efficiency and from emission reduction to vacancy management and a jointly-used day-care centre, will pools companies' know-how to make the location sustainable according to economic, ecological and social criteria.
The aims of the "Sustainable Commercial Area" project include the efficient use of resources and the reduction of the environmental impacts, such as pollutants, noise or CO₂ emissions.
A realistic cost/benefit relationship and synergy effects through common action will ensure that the measures required are economically viable. The model project also takes into account social aspects, such as quality of living, local amenities and shared social infrastructure.
Multi-disciplinary cooperation
In March 2012, Frankfurt City Council agreed to develop a sustainable commercial area. A feasibility study, conducted on behalf of the City Planning Department, to clarify the opportunities for implementing these plans in Frankfurt, proposed a model location and recommended appropriate measures. Following an initial expert assessment, a project group was set up with representatives from a wide range of institutions and fields (see project profile). This multidisciplinary group accompanied the work on the study and was involved in selecting the location. Individual companies in the local area were also surveyed.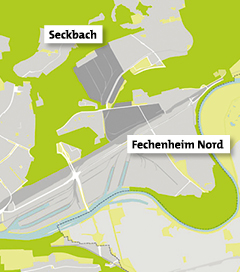 Classic commercial areas as pilot locations
Following a multi-level analysis of various sites in the city, the study proposed the neighbouring commercial areas of Fechenheim Nord and Seckbach.
The analysis included their potential and limitations, such as transport connections, ownership structures and environmental aspects. Many areas were not taken into consideration as they were mainly used by the retail sector or for offices, were too small or already had location management. New construction projects entailing long periods of development took second place behind already developed areas. This also offered the opportunity to test new ways of upgrading and modernising commercial areas.
Extensive experience through company diversity
There are 550 enterprises with about 7,000 employees covered by the social security system in the two areas. The spectrum of companies is huge: industrial companies, wholesalers, logistics companies and many others displaying high energy savings potential. The diversity of SMEs (typical of Frankfurt), such as craft enterprises and service providers, leads one to expect that the experience will also benefit future projects.
Taking the initiative, together
The study proposes a plan of action in which Frankfurt can create a cooperative framework to win the support of local companies for the project and foster their initiative.
One important interface is location management, which links civic and private commitment. This is based in the Frankfurt Economic Development GmbH which, since May 2016, has been performing tasks such as corporate networking, cultivating location initiative and the public image of the location, by bundling consulting and financing options or coordinating area and vacancy management. The project group will also continue its work as the cooperation in the group has proved its worth.
Climate protection management implements energy efficiency and resources protection measures in cooperation with interested companies. Besides advising on funding and certification procedures to make optimal use of synergies, networking local companies is also an important task. Other topics are the de-sealing and greening of areas which are no longer needed, integrated water management or area-based waste and material flow management.

Model for the future
Enhancing efficiency; reducing environmental impact; efficiency through common action; infrastructural improvements; amenities and residential quality; shared social infrastructures.

Upgrade
Model for upgrading and modernising existing commercial areas; cultivating location initiative; area management; public image of the location.

Cooperation
Project groups from different fields and areas of activity (city administration, municipal enterprises, local Chambers and associations); inter-company networking; promoting initiative.